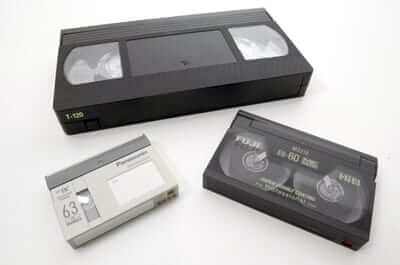 Video Tape Transfer to DVD or Digital Video Files
We can transfer just about any tape format
Choose to have your video tapes transferred onto DVD, or into Digital Video Files which can be edited in a computer, stored on a thumb drive, shared on social media, and archived in cloud storage. You can have confidence that your precious tapes will be safe and secure with us. We do not send your tapes out anywhere, we transfer them right here in our studio. We fix broken tapes too.
---
Tape formats are divided into two tiers for transfer pricing.
Tier 1 Formats: VHS, 8mm Video, Hi8, Digital 8.
Tier 2 Formats: S-VHS, Betamax, 3/4" Umatic, Beta-SP, 1 inch type C, miniDV, DVCam, DVCPro and DVCPro 50.
Pricing
Tier 1 Formats
to DVD
$25
each
Up to 2 hours per tape
Text label on DVD
Clamshell case
Get Started
Tier 1 Formats
to Digital Video Files
$25
each
Plus Flash Drive
Up to 2 hours per tape
Files in .mp4 format
2 hours = almost 4 GB
Flash drive is extra
Get Started
Tier 2 Formats
$50
each
DVD or Digital Video Files
Up to 1 hour per tape
Flash drive is extra
Get Started