ABOUT US
We are here to help with your next video production, audio recording or duplication project
For over 49 years we have been helping corporate clients, small companies, non-profits and individuals to tell their stories. How can we help you?
PROFESSIONAL STUDIO SETTING
Our studio is set up to promote efficiency in every production process.
Separate work environments allow for uninterupted workflow.
Located just off business 94 for easy access.
Tools dedicated to doing one job, Yours.
"Price is what you pay. Value is what you get." from Warren Buffet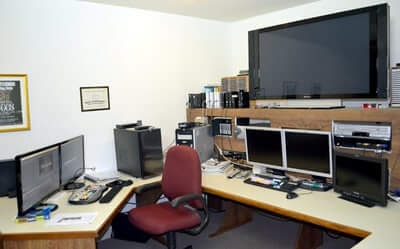 VIDEO PRODUCTION
Where it all comes together.
Video production editing is the art of combining all the elements from the production process. Video footage, music, voice recordings, still images and graphics are combined to create a program that is tailored to meet your needs.
Our video production editing suite includes the entire Adobe Creative Cloud collection of software for development of production elements.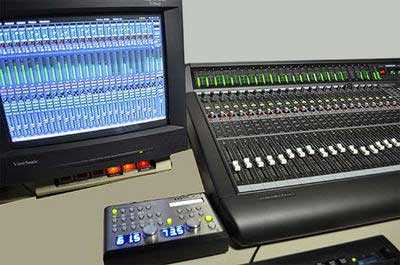 AUDIO RECORDING & MIXING
24 channels of digital audio
Audio recording can be done as single channel or all channels together. Each channel has its own EQ, compressor and gate. Audio mixing can be done in stereo or 5.1 channel surround sound.
Mackie mixing console and digital audio recorder are used in the studio for audio recording and audio mixing. Audio recording can also be done on location.
We have a large selection of microphones for just about any situation. Vocals, drums, large diaphragm, micro boom, shotgun, variable pattern, stereo pairs, and a Holophone H2 Pro.
RECORDING STUDIO
1180 square foot studio with 14 foot ceilings.
Video production and audio recording in our large recording studio. Black curtains can be pulled around the white walls. Plenty of electrical power is available. Climate control does not interfere with any audio recording or video production. The staging and loading area has 15 foot garage doors, perfect for loading in and out of the studio during inclimate weather. There is also a platform lift that can go 25 feet in the air.
Equipment includes LED & flourescent lighting, 4 HD cameras, 11 foot jib, slider, steadicam and a teleprompter.
MOTION GRAPHICS
Your message in motion.
Motion graphics are information illustrated through animation. Images, fonts, colors and motion combine to communicate a visually stimulating message. Motion graphics can be used to tell a story or explain a product or service, often called explainer videos.
Motion adds interest and keeps the viewers attention longer. Anytime we see motion it draws our attention. This is only limited by the imagination.
Adobe After Effects is the program we use and it is very powerful. Let us bring your concept to reality.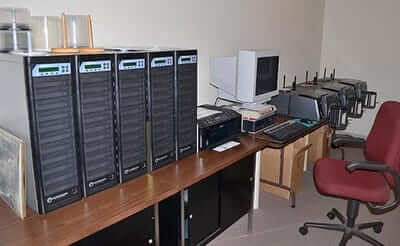 DUPLICATION
From one to one thousand.
USB thumb drive duplication is now available. CD & DVD duplication with on-disc photo quality printing. Retail ready overwrap is available.
How much is your video worth? CopyLock will protect your DVD video from being copied illegally. Pay only to protect your master, no extra charges per copy.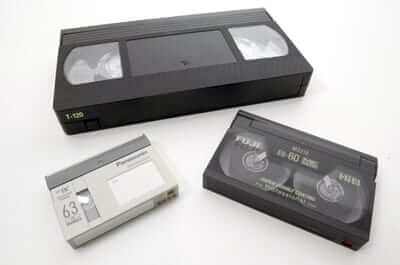 VIDEO TAPE TRANSFER
Preserving your memories for the future
Do you have a pile of video tapes that you can't watch anymore because you sold your old VHS player at your last garage sale? We can transfer many different tape formats onto DVD for you to enjoy.
If you would like to post the video up on YouTube, or edit it on your computer, we can transfer your video tapes into the .mp4 digital video file format.
For archival purposes is it important to transfer your treasured pieces of video footage into a digital format before the video tape is no longer able to be played.
CALL FOR A FREE QUOTE
We'd like you to give us the business.
SPECIALTY EQUIPMENT
Part of doing a job right includes using the right equipment
SLIDERPLUS & MOTION KIT
Edelkrone has developed the world's smartest and most portable 4-Axis motion control system. See it in action by selecting the play button.
STEADICAM FLYER
Provides the mobility of a handheld camcorder with the precision and smoothness of a dolly. See it in action by selecting the play button.
PROLINE 15 TELEPROMPTER
A teleprompter lets you read your script while looking directly into the camera. See it in action by selecting the play button.
VARIZOOM QUICKJIB
Provides smooth camera movement from the ground to 10 feet in the air. A boom saves time and money. See it in action by selecting the play button.
Gallery
Samples of our work
Video Production that tells your story, on time and on budget.
Questions, comments, send us a message.
Your message has been sent. Thank you!